Financials
Annually, every Holy Trinity household receives the state of the financial condition of the Parish.  We continue to be fiscally responsible but we need to be mindful of the increased costs associated with the expenses of our Parish.  In addition to weekly tithing, our Parish has both a Foundation and a School Endowment to assist in providing financial resources to our Church and School.  We appreciate the continued support of our faithful parishioners.
Finance Council
The Holy Trinity Finance Council advises the Pastor on financial matters, monitors expenses and income, and establishes the annual budget as well as administers the Holy Trinity School Endowment.  Please contact Mary Gisler at 255-3162 ext. 123.
View The Finance Council Minutes
No Meeting in July 2022
No Meeting in March 2022
No Meeting in December 2021
No Meeting was held in June. Sub Committee Meetings only in July 2021
No meeting was held in March 2021
No meeting were held due to COVID 19 from March thru September 2020.
Council did not meet in January 2020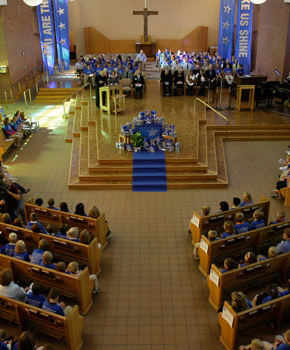 Holy Trinity Foundation
The Holy Trinity Foundation is a group of dedicated volunteers from our parish community.  The Foundation was created to assist with answering our Baptismal call by providing financial support for parish activities, programs, and needs beyond those provided for in the parish budget.  The Foundation offers parishioners an opportunity to continue long term support of the parish through estate planning, memorials, or other gifts.  Contributions to the Foundation are preserved and invested.  As special needs arise, the Foundation will then act upon requests as necessary.  Please contact Mary Gisler at 255-3162 ext. 123 or email to make donations or with questions.
Holy Trinity Endowment Fund
The Holy Trinity Endowment, along with the Holy Trinity community, continues striving to provide an affordable education for all who seek it for their children.
Your investment in the HT School Endowment Fund can:
Help provide young people with the gift of Catholic education
Hold down the cost of tuition
Assist Holy Trinity School in its goals which include just faculty wages & improve school curriculum
Help you put your faith into action
Help testify to your belief in Catholic education while benefiting you by making a tax deductible contribution
CLICK HERE to view Holy Trinity Endowment Fund brochure.  Contact Mary Gisler  at 255-3162 ext.123 to donate.
Board of Education
The Holy Trinity Board of Education affirms its support of the school, student responsibilities and discipline policy. The Board's intent is to support school staff who enforce these policies and hold school staff accountable for the implementation of these policies.
The Holy Trinity Board of Education meets on the second Thursday of each month. Board of Education meetings begin at 6:00 PM in the school building. Meetings are open to the public. All who are interested are encouraged to attend.
For more information CLICK HERE.