Accessible Catholic Education
All students deserve the opportunity to attend Holy Trinity Catholic School and receive a Catholic education, regardless of their financial situation. We understand that the cost can be a challenge for some households, and our goal is to make Catholic education accessible to as many families as possible. Contact our Bookkeeper to learn more.
Catholic Tuition Organization
The Catholic Tuition Organization (CTO) was created in 2006 to help Iowa families pay for Catholic education. Students can receive tuition assistance if they are five years old before September 15 and attend one of the 16 Catholic schools in the Diocese of Des Moines. Eligibility and awards are determined based on household size and income.
The Diocese of Des Moines established an additional endowment for tuition assistance through the Ignite Capital Campaign to complement CTO assistance. This fund is also supported by funds raised during the Bishop's Celebration of Catholic Schools. Contact our Bookkeeper for details about Diocesan Tuition Assistance.
Students First Education Savings Accounts
The Students First Act, introduced by Governor Reynolds and signed into law on January 24, 2023, establishes a framework and funding for Education Savings Accounts (ESAs) to be used by eligible families for tuition, fees, and other qualified education expenses at accredited nonpublic schools in Iowa. Students entering Kindergarten, transferring from public schools, and households with income at or below 400% of the 2024 Federal Poverty Guidelines are eligible.
Holy Trinity Parishioners gather to grow in faith and serve this wonderful community. Become a part of the greater good happening in the heart of Beaverdale. Members of Holy Trinity Parish and other Catholic parishes receive tuition discounts and priority enrollment benefits. Complete the Rite of Christian Initiation of Adults program to become Catholic, join the parish, and qualify for the in-parish tuition rate.
Registration fees are non-refundable. A household with more than one student enrolling in Kindergarten through eighth grade pays a $225 registration fee for one student plus $100 per additional student. Registered and tithing households of Holy Trinity Parish receive the in-parish tuition rate. Registered and tithing households of other Catholic parishes without schools receive the in-parish tuition rate. Non-Catholic households receive the out-of-parish tuition rate.

Early Education Breakdown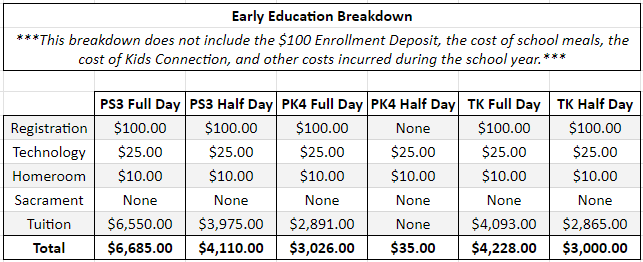 Elementary Education Breakdown
Middle Education Breakdown