Parish Updates & Visioning
Recent Updates On Our Visioning/Parish Projects
The front Church Plaza Project has been completed. We dedicated our Parish Plaza on a windy November day 2019. We look forward to this wonderful welcoming space for our Parishioners & our community especially during our Centennial year. In February/March of 2020, a cry room was added to the church making it easier for our young families to celebrate the liturgies.
Another exciting update is our newly revised Holy Trinity Website. It offers many technological improvements as well as a renovated attractive presentation of Church and School information for our Parish.
Visioning Journey at Holy Trinity
There is so much good happening at Holy Trinity Parish! The Visioning Committee will plan to hold additional town hall meetings in the future to keep everyone up to date on the progress. Please continue to pray for our Parish as we go forward to achieve our objectives.
Our Visioning Summary:
The Holy Trinity Parish Visioning Committee provided some exciting updates to the Parish on October 27th and 28th 2018 about the progress that is being made. The six objectives listed below were reviewed and an update for each objective was provided. Each committee is making great progress and we appreciate the efforts of so many outstanding volunteers along with our church and school staff.
1) Holy Trinity will remain a key player in Beaverdale and the wider community.
2) Holy Trinity will be deliberate in its marketing efforts.
3) Holy Trinity will commit to life-long Catholic education and faith formation.
4) Holy Trinity will implement a master plan for its facilities.
5) Holy Trinity will foster a culture of volunteerism.
6) Holy Trinity will be intentional in its ministry opportunities.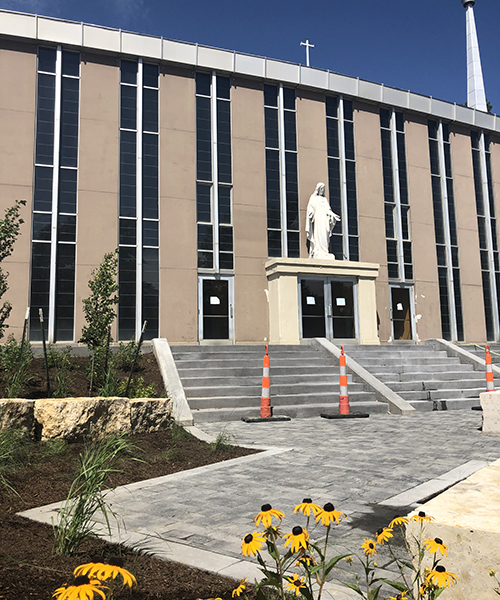 The primary focus of this town hall meeting was on marketing and facilities.
The marketing committee was excited to announce the new theme for Holy Trinity Parish: Taking the journey together. You have begun to see this message pulled through in our marketing materials and in our messaging as a parish. Recently we rolled out new branding and a logo, updated and reformatted the Bulletin, upgraded and relaunched the website, and are working on a video to be used online to attract new students and families to the parish while showcasing the foundation we are built upon: a community who comes together around Faith, Respect and Service. Next up will be a marketing plan and content strategy so all can begin to see the multitude of touch-points we have to create "conversational moments" between us and others.
Our facilities committee has been hard at work as well. Visitor parking signs will be installed in the near future to welcome guests to weekend mass and the committee is working towards a feasibility study for a potential parish hall. Lastly, the committee was thrilled to talk about the progress that is being made with the Plaza Project that will totally transform the outside front of the church. We've already broken ground and are almost complete! SCROLL DOWN to see the rendering of our new plaza, and swing by to see if in person!
The design modifications underway focus on the original design criteria for this project, which includes:
Aesthetically and functionally welcoming
Serve as a pre-and post-event space where people gather before and after mass, weddings, funerals, school events and more
Serve as a functional and beautiful connection between Holy Trinity and the Beaverdale community
A place that can accommodate several smaller groups, or one large group
Respectful to and complement the original architectural design of the church
Provide safety and protection from the traffic on Beaver Avenue to those using the plaza
A space for an electronic sign that faces perpendicular to Beaver Avenue, so it can be read by cars going both directions
Incorporate trees and plants to soften the dominant hard materials and bring beauty to the space
On August 20th 2017, we had an excellent turnout for our parish-wide community meeting to review our Visioning Report. Dr. Jeff Johnson guided us on a yearlong process of engaging and listening to the HT leadership, parish members, our community, & business leaders. This Visioning Report is designed to help guide Holy Trinity's next 5-10 years of planning & decision making. CLICK HERE to view the original Visioning Report.