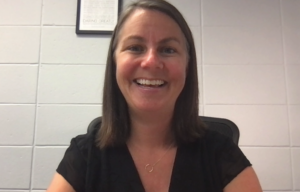 August Blog | Inspiring Learning | By Monica Morrison 
Hello families! I hope you are having a wonderful summer. There's a lot going on here at Holy Trinity with all of us getting ready for the new 21-22 school year. We have a few new faces, a few new classrooms and many, many teachers and staff excited to see your children soon. Remember: the first day of school is August 25 for TK-8 and Sept 1 for PS3 and PK4.
I wanted to reach out and remind you that we are a Catholic school focused on Inspiring Learning for Life. Holy Trinity is a community of teachers and parents who labor in love to care for, and raise, the stewards of our future. We recognize and respond to the spirit and dignity of each child as they grow, learn and achieve excellence. We believe all things are possible with God, and so will your child.
Each classroom has Parent Ambassadors that are here to help make the transition to our school that much better! They will remind you of events, assist with questions and more. For your children, we have a buddy system in place with other students so your child will have a friend on the first day and feel connected right from the start. 
We have many great ways for you to get involved! Our PTO (Parent Teacher Organization) helps the school with incredible fundraisers, activities and community building events. Please contact them about volunteering at pto@htschool.org. You can also email our Board of Ed to learn more about their monthly meetings and how to participate at boe@htschool.org. Volunteers are what help make Holy Trinity the exceptional school that it is! We want all parents to participate to demonstrate a positive view of service and show their children they care about their education.  We will have volunteer sheets at Welcome Back to School night. We ask that you please pick 3 things to volunteer for. Thank you for all you do! 
Our hours have changed slightly and are now:
K-8   

8:05AM – 3:20PM Monday – Friday

TK    

Half-Day 12:05 PM – 3:20PM Monday – Friday




         

Full-Day 8:05AM – 3:20PM Monday-Friday

PK4  

Half-Day 8:05AM – 10:50AM or 12:30PM – 3:20PM Monday – Friday




         

Full-Day 8:05AM – 3:20PM Monday – Friday

PS3  

Half-Day 8:05AM – 10:50AM Monday – Friday




         

Full-Day 8:05AM – 3:20PM Monday – Friday
School Mass is returning to Wednesdays for all grades. Please ensure your students have their red Holy Trinity Polos on to wear to church that day, every week.
Our website at holytrinitydm.org/school is our central hub of information–here you will find links to Powerschool, our Digital Backpack and Nutrition Services. We are happy to let you know that we are offering FREE hot lunches to all students again this year! The Secure Portal for Parents and our Parent Hub house all the Links & Resources you will need.
We send out the Friday News every Friday starting the week before school in August around 9:45AM. Please make sure you have holytrinity@htschool.org added to your contact list — this is one of our primary points of communication and we need to ensure you do not have this email blocked. Our email system syncs with Powerschool so if your info is not correct there , you may miss important information/updates and the Friday News.
Whew! That was a whole lot of information that has also been sent by email to all enrolled families. Please let me know if you have any questions. I am always here for you…and even if I'm not available right when you reach out, I promise I will get back to you quickly.
Enjoy the last few days of this summer–stop by our garage sale (a great place to get gently used uniform wear); maybe go out and enjoy the state fair, or grab a scoop of ice cream from Snookies. Whatever you and your family do, know that each and every one of you are in our hearts and prayers and we CAN'T WAIT TO SEE YOU SOON!