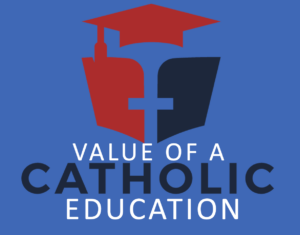 July Blog | Value of Catholic Education | By Janelle Kitt
The benefit of a Catholic school is the holistic approach to teaching resulting in a well-rounded education for your child. Holy Trinity Catholic school imparts a lifelong spiritual commitment evidenced in their students' civic responsibility, discipline and humility. But to get that education, it is an investment.
If you are looking at your finances and wondering, "Can I do it?" "Can I afford not to?" we want to remind you these are some options that might help:
Apply for CTO

The Diocese of Des Moines established this in 2006 to provide tuition assistance to eligible families whose children attend one of the sixteen Catholic schools in the Diocese. The criteria for receiving assistance is based on family size and income. They award 10-50% to students TK-8th. Their second round of funding will close July 31. To apply for tuition assistance, please go to

www.fairapp.com

. There is a $27 fee per family for processing the application and you need to have your 2020 taxes completed. Families will be notified of their tuition assistance awards near the end of August. Our school code is 450 and our password is cto450. Find out more about qualifying at

ctodmdiocese.org

or via this

document from CTO. Please watch this VIDEO created by CTO to guide HT families through the application process.
Donate to CTO and get a tax credit (which is more valued than a tax deduction) again which could result  in a greater refund from the IRS.
Ask about the Welcome Tuition Grant for new families transferring in from public school in grades 1-7. We provide $1000 the first year and $500 the second year toward tuition for each student that qualifies. This grant cannot be combined with CTO funds.
Leverage the Referral Grant for existing families — refer a family and if they enroll, you get $500 off your tuition. So refer a friend and earn some savings on your own tuition!
Join the Parish (if you are Catholic) and you will get the in-parish tuition rate. Active parish members pay a much lower annual tuition rate than out-of-parish.
Become Catholic If you go through our RCIA program and complete it, you will also qualify for the in-parish tuition rate. Contact the parish office at 515 255 3162 ext 128 for more info on RCIA.
529 Savings Plans you can now use your College Savings plan toward elementary, middle and high school education. While this does not change the cost of tuition, it does provide a tax break that may result in a greater refund from the IRS. Plus there is no time limit to how long the funds must stay in the 529 so you can put the money in, take it out to pay and earn a tax deduction just for doing so. Read more here.
Monthly Child Tax Credit Payments this will start July 15 and offer many families $200-$300 each month in extra funds for their children. You can read more about it here.

 
We hope these ideas help you find your way to our school. But no matter what, please talk to us! If you are truly committed to have your students attend Holy Trinity, we will work with you to make it happen. You can always contact me at 515 255 3162 ext 125 or janellek@holytrinitydm.org.