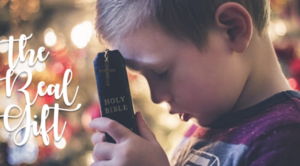 Dec Blog | The Gift That Keeps On Giving | By Father Mark Neal
This holiday season–what's the best gift you can give your children? Your grandchildren? Or any child? Is it the latest gadget? A toy they've been asking for all year? (I remember asking for a mini bike….but mom said it was too dangerous so I got something more appropriate). We all try to give our children what is best for them…but did you know one of the most lasting gifts you can give your children is a Catholic Education? I don't say this only because I am the Pastor at Holy Trinity, but also from personal experience. 
This is something that was given to me by my parents. And I believe that my Holy Trinity Catholic education offered me an opportunity to fully understand and truly believe in my Catholic faith, which in turn has helped me navigate the many twists and turns in life with better purpose and a real sense of who I am and who I am not. 
I understand that choosing to send your children to Catholic schools is costly: in essence you are paying twice–through your taxes for a "free" public education and then for tuition. But it really is the gift that keeps on giving "more", it's something that stays with your child for life: into high school, when they head off to college and then into the "real world".
I don't mean "more" in the sense of only upward mobility, but more spiritually to provide that faith, that guidance, to help become young people who are deeply connected to a community of belief. And isn't that something we've discovered is so critical in this pandemic? That sense of something that keeps us all together, even when we have been so torn apart?
We all wish the best for our children and work to give them what they need. But we are all only human. By inviting God into their lives every day, through prayer, through the foundational teachings of our Church, through authentic integration in academic education, through the joy of the liturgy, we are giving them so much more than wisdom. We are giving them the ability to truly believe.
This #GivingTuesday, please consider donating to our "Adopt a Student" fund here. Or just choose to enroll your student at our school (that journey starts here). I am confident you will be glad you did! There is not a day that goes by that I don't quietly thank my mother and father in prayer for doing so.
I pray that your holiday is a happy one, that your family is whole and that you will all be well in the new year. I also ask that you consider choosing to give your children the greatest gift of all this Christmas: the chance to grow in wisdom and faith at Holy Trinity Catholic School.
Merry Christmas! May God Bless you, your family and the Holy Trinity Community.