Would You Like to Save Money
and Help Holy Trinity School at the Same Time?
In our current economy many families are looking for opportunities to save money where they can, but at the same time continue to support those organizations that are important to them. Holy Trinity's SCRIP program can help you do both! We are encouraging all families to sign-up for a standing order.
What is SCRIP?
SCRIP is a term that means "substitute money". When Holy Trinity members purchase SCRIP, they are purchasing gift certificates that are used just like cash. The scrip is issued by national and local retailers where many Holy Trinity families already shop. These merchants want to support non-profit organizations, and in return ask you to support them by shopping with scrip at their stores. The intention of this program is to raise money for our parish school without having to sell door-to-door and to eliminate the need for parents to buy un-wanted items from their kids.
How does the school profit from SCRIP?
The school purchases SCRIP from a national company-Great Lakes SCRIP, and from local merchants. The participating retailers sell their gift cards at a discount to us; we then sell them to our families for face value. The difference between the discounted amount and face value is profit for Holy Trinity.
How much money does the school make?
We have approximately 500 students enrolled at Holy Trinity Catholic School with approximately 150 families regularly participating in SCRIP. Although our NET PROFIT for last year was over $11,000 we are not even close to reaching our full fundraising potential.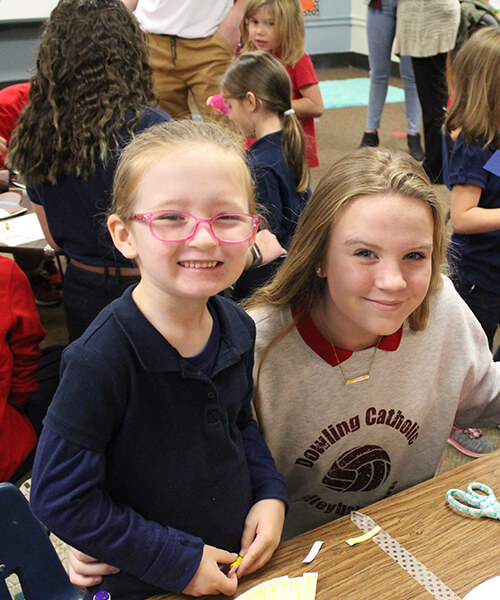 Tell me about the incentive program!
Each family will have their own SCRIP account as they order. The profit earned on your purchases will be split with 50% to Holy Trinity and 50% to your family. You can designate on the top of the SCRIP order form what parish program you would like your credit to go towards; Holy Trinity lunch account, Dowling lunch account, or the Guild. Last year over $4,000 was returned in credit to families. Example: You pay $200 for $200 in Hy-Vee or Dahl's gift cards. Holy Trinity receives $3.00 and your family receives $3.00 credit.
Signing Up for the First Time?
Please make sure to include our Holy Trinity code — request it at HTScrip@htschool.org 
How can I buy SCRIP?
SCRIP can be purchased after all weekend Masses, in the Parish Office on Monday's from 9;00-10:00 am, or dropped in the backpacks Monday for the weekly school pick-up. Standing orders will be filled monthly and sent home with students through the backpack system on the first Monday of each month. Bank account withdrawals can be set up for once or twice a month.
For weekly orders the homeroom teachers will collect order forms every Monday morning along with your check made out to Holy Trinity Guild. Completed orders will be returned by Monday or Thursday of the same week. SCRIP folders will be distributed to the appropriate child who will place the SCRIP in their backpack to take home. If you do not want your child to carry SCRIP home, arrangements may be made to pick your SCRIP up in the office.
What is a standing order?
A standing order is a great way to budget your monthly grocery, gas and other expenses. Simply complete the SCRIP Order Form for which gift cards you would like each month as well as the SCRIP Enrollment form and Standing Order Authorization form and your account will be automatically debited each month. SCRIP standing orders are filled monthly and sent home with students on the first Monday of each month. You may choose to have the money withdrawn from your bank account either once or twice a month.
What SCRIP is available and on-hand right now?
Our on-hand gift cards are listed on the front side of our order form, which also shows the discount that merchants are giving to us. If we don't have the retailer's gift cards on hand (these retailers are located on the back of the order form) we can order them for you and send them home through school or they can be picked up in the Parish office or after weekend masses.
SCRIP Jeans Days
The SCRIP program is offering FREE Jeans Days for those families who purchase SCRIP in a calendar month.
How Does It Work?
When a family purchases any amount of SCRIP in a calendar month every child in that household gets to participate in the SCRIP Jeans Day the following month. An amount of $50 per month is recommended, but there isn't a minimum dollar amount for your child to qualify for a SCRIP Jeans Day.
When Are The SCRIP Jeans Days?
The SCRIP Jeans Days are whenever you want them  to be (except on Mass days)
How Will I Know If I Earned a Jeans Day?
You will get a Jeans Day Pass when you pick up your order (or an email if everything was online).
Please feel free to offer any suggestions to enhance this important fundraising program. On behalf of the children at Holy Trinity and the PTO, along with the SCRIP coordinators, we would like to thank you for your support of SCRIP. Contact: Jennifer King 515-306-2673
jennyanneking@gmail.com