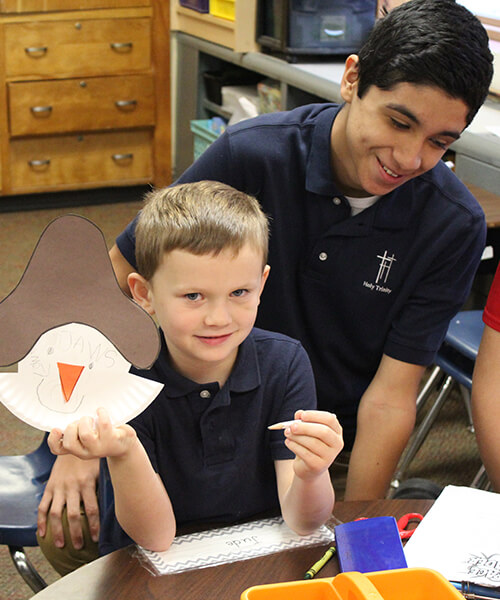 by Father Mark Neal | Jan 12 2020 | New Blog
Greetings Holy Trinity Families. We have a new blog! We hope you will look for it monthly. I will pen a few along with our Principal Anne Franklin and guest bloggers. Its focus will be to deliver content to you that's either a "wow!" something exciting and new; "how" something that you may want more details about or "now" an item that is very topical at the moment. This first one packs all of those into one blog!
Let's start with "now": January 26 through the 31st is Catholic Schools Week. It's the time where we celebrate our community, family, faith, family, school, students, staff and volunteers.
What's the "wow?" Well, this year marks Holy Trinity Parish turning 100! What began as a vision in 1920 with our founding by Fr. Francis Ostdiek has turned into a thriving Parish centered on forming all ages in the Catholic faith while always providing service to those in need. We want to continue to live our parish philosophy: "All Are Welcome Here" by providing ways to make Catholic Education at Holy Trinity accessible for the many still to come.
Finally the "how": We're hosting our first ever NCEA Many Gifts, One Nation National Day of Giving event on January 28. We are looking to raise $10,000 toward creating an annual Centennial Scholarship fund for students to keep attending Holy Trinity over the next 100 years. It's easy to give, just go online HERE to donate.
As a graduate of Holy Trinity myself, I, Father Mark, want to encourage all those who have had the honor of graduating from Holy Trinity or who have students here now, or just believe in the power of a Catholic education consider giving $100!
Look for information and reminders in our social media accounts @holytrinitydsm on Instagram or @holytrinitydm on Twitter and Facebook. Watch for LIVE updates on January 28 throughout the day to see how we are doing! Truly though, it all comes back to our students, who can inspire you more than anything else said. Here is what Holy Trinity Catholic School means to them:
"Holy Trinity is a place where I feel at home and a place where I feel special"  Colin H
"A place filled with respect and love" Gabe D
"A school with 100 years of very good education, teachers and fun"  Tate E  
"This is the place where my friends are" Faith R
"Holy Trinity is where I feel safe & happy and I have built a family here!" Kate C  
"Where my aunt and cousins and family went" Braedon G  
"A place where I can be myself where I feel accepted and where I learn about the world around me" Shannon B