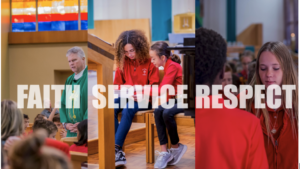 January Blog | Many Gifts | By Father Mark Neal
Happy New Year! I hope your holidays were wonderful and filled with much joy. For me, the holidays are all about counting up the many gifts I have received. Not the ones that come wrapped up in shiny bows but the ones that have given me purpose and direction my whole life.
One of the many gifts I was given a few years ago was the honor to be the Pastor here at Holy Trinity–the Parish I was raised in, where I received my first sacraments and attended school for eight years. And no, I was not here when Father Ostdiek started everything 100 years ago (although some of my Kindergarten lunch buddies might disagree–I believe they see me as truly ancient!)
What are the many gifts that you have received over the years? Was one of them a Catholic Education? How much has that been the cornerstone of your life? For me, it was a pivotal point that kept me connected and grounded to this wonderful community.
Over 100 years ago, Father Ostdiek started Holy Trinity Parish with a singular mission–to create a faith-filled eucharistic community committed to Christ-centered stewardship especially through education, social justice, hospitality and service. Exactly 100 years ago he built a school to begin the educational component. Yes–2022 is our School's Centennial! Our Diocese of Des Moines Catholic Schools mission? To develop and inspire learning for life by providing a world-class education within a Catholic environment for our students. 
Won't you help us continue this for the next generation? We will be hosting Catholic Schools Week starting Jan 30 and running through Feb 5. It will kick off with an Open House Jan 30 from 11:45 AM until 1PM. If you know of a family, please invite them to stop by! All are welcome here. If you are a school family, please bring your friends. Be proud of showing off your children's school! We are so proud of your students! There will be Parish, Community and School events all week culminating in a talent show (No, I will not be lip-syncing to "Amazing Grace" by Elvis Presley). 
There will also be the Many Gifts One Nation Day of Giving on Tuesday Feb 1. Each year, you all have helped us raise around $10,000! Thank you! That money has supported many students and families who have truly appreciated the gift of a Catholic Education at Holy Trinity. Please join us in supporting this great cause again this year by clicking HERE. The portal will open for donations on Jan 31 and close on Feb 2. We hope to raise $10,000 again to support this little school that started 100 years ago with 13 students and has blossomed into the award-winning academic campus it is today!
We asked our students to thank you for your support and ask for another gift this year.
Please watch! God Bless you and God bless Holy Trinity Catholic School.