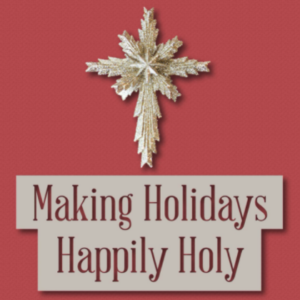 December Blog | Making Holidays Mean More | By Dan Maxcy
Pastoral Care. It sounds so peaceful and tender. And it is often that for many of the Parishioners that I visit on a regular basis. However, at the holidays, especially during Advent and Christmas, it is so much more. For many it is a connection to the community they can no longer get out and see during this most holy season.
In simplest terms, Pastoral Care is "helping others", often by offering emotional and spiritual support to our sick or elderly brothers and sisters. Pastoral care is considered to be the responsibility of all baptized Catholics and is one of the most significant ways that we, as members of the Body of Christ, can continue the ministry and mission of Jesus Christ. And during Advent, it's a way of Making the holidays Happily Holy.
Today I am reaching out to each and everyone of you at Holy Trinity (we are over 1100 families strong!) and asking that you consider making Christmas more meaningful to those to whom it can mean so much to. I'm not asking you to step away from any of your holiday plans with your own family, merely to consider adding a new tradition to those plans, one that might make someone feel just that more special, that much more loved and cared for by a fellow Catholic.
Here are some ideas to get you started:

CAROLING — many of our elderly love to hear Christmas music, especially from children! Consider stopping by an elder care facility (you can sing outside the front door) and doing a few rounds of Hark! The Herald Angels Sing, God Rest Ye Merry Gentlemen, Silent Night or wherever Christmas songs you love to sing.

COMFORT & JOY — give those in need what they truly need. We always have a giving tree set up in the church each year. Grab an ornament (or 2 or 3) and give some gifts that will so truly be appreciated by those who will benefit from them greatly.

DROP A LINE — Send a Christmas Card! Many of our sick or infirm appreciate hearing from people, even if they don't know them. I am happy to deliver these for you if you simply bring them to the Parish office by Dec 17.

TAKE SOME TIME FOR TAIZÉ — join us for these wonderful Sunday night breaks from all the holiday hustle & bustle, and bring along a friend to introduce them to all the peace you can find through prayer.
Again, these are just ideas to get you started. HERE are some more. But really just keep in mind, the greatest gift you can give anyone this holiday season is what Jesus said:  "Love each other as I have loved you." John 15:12-13