June Blog | History of Help & Hope | By The Centennial History Sub-Committee: Erin Grillot, Steve Stimmel, Julie Curry and Teresa Baustian
2020, as many of us know, is Holy Trinity's Centennial year. And while a lot of our plans for this year have been adjusted over the last few months, the joy of having a parish and school that has survived and thrived for 100 years is incredible. The amazing people, stories, and history that have unfolded since 1920 are the foundation blocks of this parish–literally and metaphorically. 
More than 8 months ago a small 4 person committee formed out of the larger Centennial Committee. We were dubbed the historical committee and put in charge of researching and compiling items for Holy Trinity's Centennial Celebrations. Our committee quickly realized the daunting task in front of us and tackled it with excitement. Read some of our highlights below.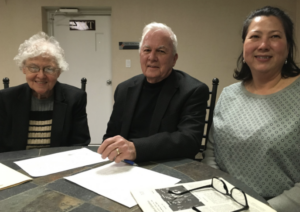 Archives
The committee's first plan of action was to go through Holy Trinity's archives and see what was there, index items, and find all the best pictures, stories, and memorabilia. (Didn't know that HT had an archive? Join the team–this was a surprise for most of us!) This small room in the basement of the B building is stuffed full of history. Box after box of photos were amongst newspaper clippings, handwritten notes, old bulletins and myriad other items. From fliers denouncing mixed boy girl gatherings, to a personal letter bemoaning the (then current) youth's lack of knowledge on cuts of meats, to warm and poignant stories of a hard attitude, yet caring and loving heart, truly brought Fr. Ostdiek to life. Our history is so full and not just within our own walls but within our community, state, and nation. Our parish opened its arms to refugees, to helping the poor in our community through PATCH, to sending our youth off to wars and across the world as educated and caring citizens. It's given us a greater appreciation for our past, our present, and our future. What it took for this community to grow over the last 100 years, to become the heart of its people, of its community, is an overwhelming thing to discover and experience.
1975 Vietnamese Resettlement
Our research revealed a lot about Holy Trinity's ability to start with a mustard seed of an idea and grow it to unimaginable heights. In 1975, Governor Bob Ray asked Iowans to welcome and support displaced Vietnamese families. A statewide effort began and our diocese provided needed leadership to involve Catholic parishes. HT was one of the first to respond with what would become a robust commitment. Holy Trinity Associate Pastor John Zietler and Sr Pat Scheer co-led the parish's resettlement activities. Holy Trinity sponsored 3 families and many parishioners, including the Knights of Columbus, devoted considerable time, talent and treasure to the endeavor. We found homes and furnishings for each family, helped pay rent, enrolled the children at Holy Trinity and Dowling, and found jobs for the parents. Volunteers gave them rides to English classes and Asian & American grocery stores, helping them navigate their new culture. In an interview this past winter, we learned that many of the children went on to serve in professional vocations as adults including doctor, social worker and more. Sister Pat was so moved by God's work in the resettlement effort, she ended up devoting the rest of her ministry to them until her retirement. To learn more, see this historic newsletter.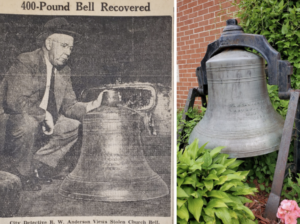 Grand Larceny 70 Years Ago at Holy Trinity
About 10PM on September 22, 1950, the parish experienced a theft from the yard near the rectory. Father John Clark heard a noise and looked out the window to see a truck driving away from the school. He attempted to follow the truck but lost it in traffic. Stolen was the bronze bell school children raised funds to purchase. Plans were being made to place the bell on a stand in the school yard. Quick work by the police resulted in the arrest of three men the next day in Rock Island Illinois who were attempting to sell the bell to a junk dealer. And it's still there today!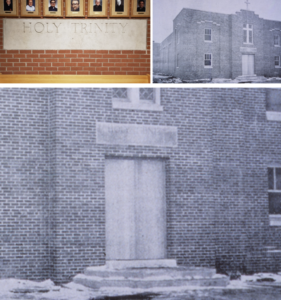 Holy Trinity in Stone, 1936
Have you ever wondered why there is a seven-foot long limestone block built into the corridor wall across from the parish office? Was it made for this location? Or was it relocated from one of the former buildings on our campus? Answer: It was salvaged and relocated. When the parish center was built, the oldest buildings on campus were no longer needed. So, where was the original location? Some of you may remember the west end of the former hall (built as the third Holy Trinity church in 1936). The unusual placement of the "HOLY TRINITY" text near the top of the panel, the length of the stone block, and even the faint stains match those on the panel in the original location visible in the old photograph. Check it when you are next heading over to the Social Room.
Celebrating Our Centennial
While our plans have had to change as to what we are doing to celebrate our Centennial, what we have learned is that this resilient parish can withstand almost anything. We are hoping to gather in late summer to worship in a celebratory outdoor Mass, host a parish mission in November and then culminate the year with a formal dinner in December.