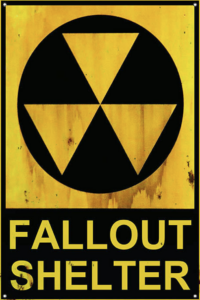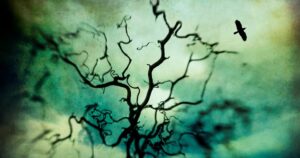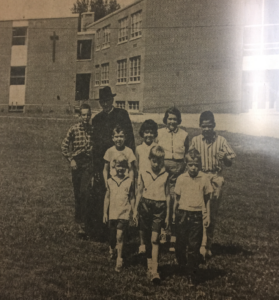 Oct Blog | Haunted HT? | By Father Mark Neal
As many of you know, I have been at Holy Trinity most of my life (although not for the complete 100–I'm not that old even though the Kindergartners ask me sometimes). There are so many things that have changed over the years: buildings taken down and paved over, secret passageways long forgotten, and lost favorite spots of our founding Pastor Father Ostdiek.
That's why this October, the month usually dedicated to ghost stories, I thought I'd share some local lore and myths about Holy Trinity. 
Let's begin with the old school building — it was once adjacent to the west doors of the church. In the basement of the building was the cafeteria. It had a few windows but was definitely a basement. I often wondered as a child what its story was. Come to find out that it was originally the first parish hall and also a fallout shelter for the church! I still remember the 'fallout shelter' signs that lined the walls.
Some of you may or may not know about our secret tunnel. It runs from the old convent (the preschool, arts and STEM building) to the church. It's great when the weather gets cold–but it seems to stay pretty damp and cool all year long. Could be because it's underground, but could it be something else? That one I never got an answer to. The sisters did keep some supplies in the tunnel; they were ready for anything.
I was asked recently if there were any spirits in our hallowed halls. I do believe Father Ostdiek watches over us. And when he was watching us tear down that wall, to create our beautiful new plaza, we were not sure he was pleased. We ran into so many difficulties that I believe that only through our combined prayers did we end up making it happen. The workers from the demolition company said they  had "never seen anything like that wall before." But, now I choose to believe he is as happy with the end result for his beloved Holy Trinity, as we all are.
Finally, there's a mention of Father Ostdiek's vineyard and how he used it to make some pretty tasty wine. There is not a vine left anywhere that we can find. Although I suspect it may have been paved over to create the preschool playground. Not sure how much truth there is to this. Fr. Ostdiek struck me as more of a teetotaler.  But as he was the pastor here for 49 years, he may have needed the occasional drink. 
While it's fun to wonder about things you can't explain–I find that most scary stories just require you to turn to your faith and belief that God will take care of everything. I know that's what gets me through even the most challenging of times, like right now. 
Stay safe this upcoming All Hallows Eve (Happy All Saints Day!) and don't miss our Trunk or Treat event coming in October. This year we will separate the cars and stagger the times to make it safer for all. Look for an update in our announcements page.