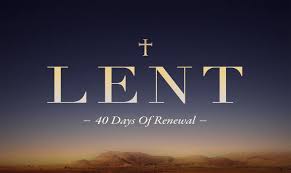 Feb Blog | Lent in the Time of COVID | By Deacon Jim Obradovich
The liturgical season of Lent begins in just a few weeks.  On Wednesday, Feb. 17, Ash Wednesday, we begin the annual 40-day period where we strive to grow closer to God. We work to leave sin behind and avoid the temptations that lead to sin. 
We do this in preparation for the celebration of Triduum – the Last Supper (Holy Thursday,) the Lord's Passion and Death (Good Friday,) and his Resurrection (Easter.)
In our faith tradition, we each are called to give up something during Lent. As we move into month 10 of the pandemic one can easily ask themselves: "What more can I give up for Lent? For the last 10 months I've given up seeing family and friends in person. I've given up going out to eat. I haven't seen a movie in a movie theater for nearly a year and heck, I'm almost used to wearing a face mask."
Let's admit it, Lent 2021 may not be the best year to "give something up."  So how about adding something to your life for 40 days?
How about adding some prayer?  It can be as simple as every morning saying, "God, I thank you for this day." What about saying an "Our Father" or a "Hail Mary" before lunch or ending the day with heartfelt prayer of thanks? If you prefer formal style prayers, that's great also. The Rosary is a most blessed prayer. So is the Divine Mercy Chaplet.
Have you tried Lectio Divina? Don't let the Latin scare you off. It's the practice of reading some Scripture and then reflecting and praying on what you've just read. Try it. Open your Bible and read a few sentences or a paragraph. Then let the word of God "rest" in your heart and mind. Let God know what your soul tells you as you read and contemplate the inspired word of God.
How about taking time, once a week, during Lent and making a telephone call to a family member or friend you haven't talked to for quite some time? Reconnect! Have an actual conversation, not an exchange of emails, but a real person-to-person discussion. Find out how they've been holding up in these unique and trying times. Be a voice of love, compassion and companionship in a time when that is so needed by so many.
These are just a few ideas; I'm sure you can come up with many more. 
Yes, Lent 2021 may be the time to "add" rather than "give up" something. Whatever you do to participate in Lent and prepare the way in your heart for Jesus, may you experience a blessed Lent that leads you closer to the love of God and that prepares us to celebrate Jesus' resurrection on Easter