Holy Trinity Gala Auction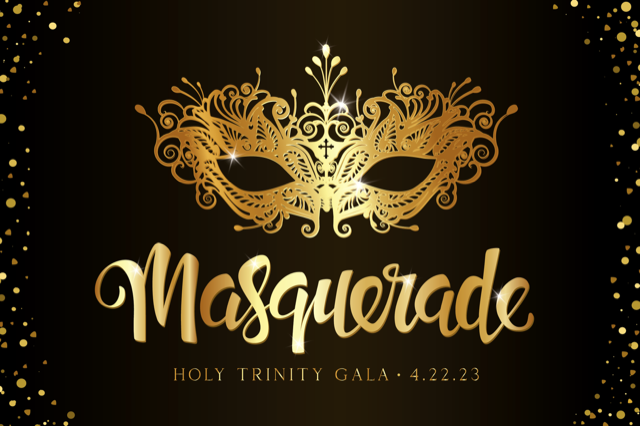 Each year we host an extravagant dinner with drinks, dancing, and hundreds of items to bid on during our silent, super silent, and live auctions. Big ticket items this year included a six-night Florida vacation with access to Universal Studios, a Traeger Pro 575 Smoker, Dinner with Bishop Joensen, and student experiences like the Donut Patrol ride along with Police Officer Vasquez and Principal for a Day.
Did you know…? $75,000 of gala auction proceeds go to the general school budget, allowing the cost of tuition to remain low. A portion of gala auction proceeds goes to the Holy Trinity Endowment Fund, which is used for major Parish expenses. Many building improvements have been funded in part by the auction, most recently the gym and social room flooring, church sound system upgrades, and classroom remodeling.
Want to Get Involved?
We need your help to make this spectacular event happen. If you would like to volunteer, or if your business would like to become a sponsor, please contact Auction Coordinator Andy Negrete at andyn@holytrinitydm.org or 515-255-3162 x 129. All sponsors are recognized on the Gala Auction website, in our event program, on the mobile bidding platform, and on Gala Auction signage. Email auction@htschool.org if you have questions.
We are Honored to Acknowledge our 2022 Underwriters
Dan & Connie Maahs, James & Jeanne O' Halloran, Bernie & Kathleen Gradoville, Mrs. Sally Hicks, Holly & Cindy Smith, Ms. Jean Swanson, Ron & Jan Stehl, Allan & Mary Kramer, Steve & Lynn Lavia, Greg & Pat Lynch, Pat & Julie Schulte, Glen & Kim Hall, Warren & Mary Riedesel, Mike & Carrie Thrall, and Jim Martens.
Thank You, Gala Auction Crew!
Candace & Ken Camiling, Mercedes & Cole Steinkamp, Erin Grillot, Maria Fichera, Francis Boggus, Val Hopp, Scott Alongi, and everyone who procured our wonderful acquisitions.
Special Thanks
Jenith Burry, Carolyn Rainey, Chris Page, Richard TeKippe, Lori & Stephen Marso, Mindy Myers, Amy DuShane, Katie Niday, Jolene Edgington, Boesen the Florist, White Willow Events, and all those who hosted Class Gathering Parties collectively raising over $8,000 for the Gala Auction.

Holywarts, Where all the Magic Happens
Witches and wizards joined us for an enchanted evening on April 23, 2022. Our magnificent Gala Auction Crew cast a spell and transformed the gymnasium into the notorious Great Hall at Hogwarts. All attendees had a blast, and we raised approximately $65,000 for Holy Trinity! Scroll down for pictures.