YOUR BEST INVESTMENT
As a non-profit private school, we spend almost 70 percent of all tuition dollars on finding and retaining the best teachers, staff and technology. By investing back into our school we create a culture that offers excellence, possibilities and extraordinary care for your child.
EXCELLENCE AND POSSIBILITIES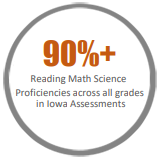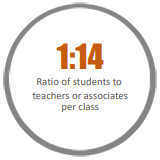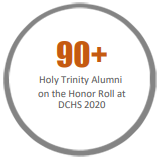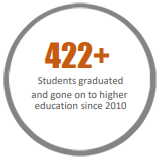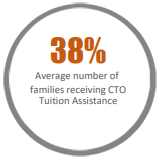 Tuition and Fees
All students deserve the opportunity to attend Holy Trinity Catholic School and receive a Catholic education. We understand the financial obligation can be challenging for some households, and our goal is to make Catholic education accessible to as many families as possible. Please contact the Holy Trinity Bookkeeper to learn more about tuition, fees, and tuition assistance opportunities.
Tuition Assistance
Catholic Tuition Organization
The Catholic Tuition Organization (CTO) was created in 2006 to provide tuition assistance to qualifying families attending Catholic schools. Criteria for receiving assistance is based on family size and income, and students must be at least five-years-old. Applications are due before July 31 each year, and families will be notified of their tuition assistance awards at the end of August.
Visit www.fairapp.com to apply for tuition assistance using school code 450 and password cto450. There is a $27 application processing fee per family, and applicants must have their most current taxes completed. Visit the Catholic Tuition Organization webpage to learn more and watch the "Holy Trinity: How to Apply for CTO" video.
Welcome Grant
New students in Grades 1 through 7 transferring to Holy Trinity Catholic School from public school may qualify for a $1500 credit towards tuition over two years. We apply $1000 to the transfer student's first year at Holy Trinity and $500 to the second year. This grant cannot be combined with CTO funds.
Referral Grant
Households currently enrolled at Holy Trinity Catholic School are encouraged to refer new students. A successful referral results in $500 credit toward tuition. Refer a friend and earn some savings on your own tuition!
Become Catholic and Join Holy Trinity Parish
Active parishioners pay a lower annual tuition rate than out-of-parish households. Complete our RCIA program to qualify for the in-parish tuition rate. Contact the parish office at 515-255-3162 ext. 128 for more RCIA information.
Registration and Other Fees for 2022/2023
Registration Fee
Registration fees are non-refundable. Households with more than one student enrolled in Kindergarten through Grade 8 will pay the $225 registration fee for one student, plus $100 per additional student.
| | |
| --- | --- |
| Section | Amount |
| PS3 Full or Half Day | $100 |
| PK4 Full Day | $100 |
| PK4 Half Day | No Fee |
| TK Full or Half Day | $100 |
| K through 8th | $225 |
Deposit Fee
Holy Trinity collects one deposit fee per household. There is not a deposit fee required for PK4 Half Day students without siblings in other grades.
| | |
| --- | --- |
| Before February 15 | After February 15 |
| $100 | $150 |
| | |
| --- | --- |
| Section | Amount |
| PS3 through TK | $25 |
| K through 3rd | $50 |
| 4th and 5th | $75 |
| 6th through 8th | $100 |
| | |
| --- | --- |
| Section | Amount |
| All Grades | $10 |
| | |
| --- | --- |
| Section | Amount |
| 2nd and 8th Only | $10 |
Tuition Rates for 2022/2023
Members of a Catholic parish without a school receive the in-parish tuition rate.
The Holy Trinity Pre-Kindergarten Program (PK4) participates in the Statewide Voluntary Pre-Kindergarten Program and Universal Pre-Kindergarten Grant which provides free tuition to four-year-old Pre-K students during the academic portion of their day. This component of tuition for the PK4 program will be covered at 100 percent for the 2022/2023 school year.
In-parish Tuition
Section
Amount
PS3 Full Day
$6,286
PS3 Half Day
$3,822
PK4 Full Day
$2,780
PK4 Half Day
Free
TK Full Day
$3,884
TK Half Day
$2,664
K and Older
(1 Student)
$3,825
K and Older
(2 Students)
$7,076
K and Older
(3 Students +)
$10,136
Out-of-parish Tuition
Section
Amount
PS3 Full Day
$6,286
PS3 Half Day
$3,822
PK4 Full Day
$2,780
PK4 Half Day
Free
TK Full Day
$3,884
TK Half Day
$2,664
K and Older
(1 Student)
$4,325
K and Older
(2 Students)
$7,576
K and Older
(3 Students +)
$10,636