Our Early Childhood Programs
The Holy Trinity Early Childhood education programs offered by Holy Trinity Catholic School during the school year are in the form of both a 3-year-old Preschool program and a 4-year-old Pre-Kindergarten program. Students are eligible for the 3-year-old preschool program if they turn 3 on or before September 15. Students are eligible for the 4-year-old Pre-Kindergarten program if they turn 4 on or before September 15. The academic portion of our PreKindergarten program is funded through the Statewide Universal Preschool Program (UPK) grant.
Holy Trinity offers both half-day and full-day preschool and prekindergarten programs. Our half-day program provides early childhood academic learning with a certified teacher. Our full-day program provides academic learning with a certified teacher PLUS faith-based socio-emotional learning through our DHS-licensed program. Click HERE for more information regarding tuition.
Holy Trinity Catholic School Early Education programs are based on a whole child approach. The social, emotional, intellectual, physical, and spiritual needs are the primary goals of our program. Our goals focus on continuing to develop the child's feeling of self-worth and autonomy in a nurturing supportive environment.
Our program offers a variety of activities to support our goals and meet all the children's developmental needs. Each child is allowed to explore her or his world with curiosity and creativity. Engaging students with quality experiences help build the capacities necessary for lifelong learning.
Children learn best when they actively participate in manipulating objects and when they can express their ideas in informal, flexible classroom arrangements and interest centers. The young child is a "sensory being" and concrete "hands on" experiences that the child can process are how s/he learns best. Our program centers on themes that have a basis in a young child's experiences and the surrounding world.
We offer instructional methods to promote a creative open-ended day. We have large group times where all the children participate in literature and language experiences, math readiness, large motor, movement, music, and prayer. At choice times the children can choose from a variety of activities at various centers: block, house (dramatic play), math, science, art, writing, listening center, Playdough, computer, and sensory table. We discuss, touch, taste, sing, and move throughout the day with our preschool friends.
We feel we have some unique opportunities at our preschool. We have the availability of the gym, library, computer lab, and chance to participate in all school functions when appropriate, such as musicals, band concerts, Opera Iowa, Artist-in-Residence, and liturgies. The children enjoy picnics in the preschool backyard. The children's world is broadened by neighborhood field trips: a fall walk and visits to the post office, Beaverdale Books and Beaverdale Confections.
We love visitors–and are so happy to have them again! We offer pre-scheduled tours Wednesdays after school in half-hour increments. To request a tour date and time to see our school, please contact Monica Morrison at 255-3162 x117 or at mmorrison@htschool.org.
Please review our Early Childhood Handbook for more details about our preschool programs.
Childcare
Before and after school childcare is available for Preschool and Pre-Kindergarten. Please click HERE for more information about child care.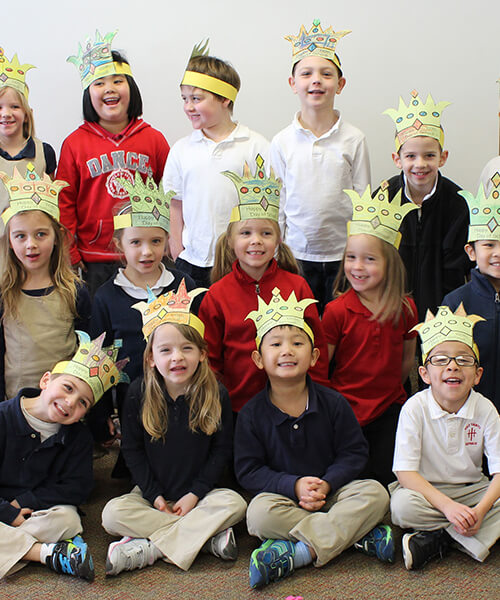 2022-2023 Program Options
3-YEAR-OLD PRESCHOOL
Programs  | Class Days  |  Class Time  |  Tuition
Half Day Program |  Monday – Friday  |  8:05 – 10:45 AM  |  $3822 year
Full Day Program |  Monday – Friday  |  8:05 – 3:20 PM  |  $6286 year
4-YEAR-OLD PREKINDERGARTEN
Programs | Class Days  |  Class Time  |  Tuition
Half Day Program |  Monday – Friday  |  8:05 AM – 10:50 AM OR 12:30 – 3:20 PM |  FREE* see below
Full Day Program |  Monday – Friday  |  8:05 AM – 3:20 PM |  $2780 year
*Holy Trinity Pre-Kindergarten participates in the Statewide Voluntary Preschool Program/Universal Pre-Kindergarten (UPK) Grant which provides free tuition to 4-year-old Pre-Kindergarten students during the academic portion of their day. This component of tuition for 4-year-old Pre-Kindergarten program will be covered at 100% if grant is approved for the 2022-2023 school year. NOTE There is a $10 Homeroom fee.
Additional Fees*
$100 Registration fee for 3-year-old Preschool and 4-year-old Pre-Kindergarten Full Day
$25 Technology Fee per student
$10 Homeroom Fee per student
*4-year-old half-day Pre-Kindergarten students are only responsible for the $10 Homeroom Fee. Registration and technology fees are covered by the UPK Grant.