Each grade in Kindergarten through 8th has two sections, allowing our average classroom size to remain small. We work hard to create a rigorous academic curriculum that challenges every student, while also offering support at all levels to ensure every student has the opportunity to reach their potential. For example, teacher associates join our Kindergarten as well as our Preschool, Pre-Kindergarten and Transitional Kindergarten classes.
Holy Trinity also has multiple interventionists to provide additional academic support to those in need, including early child reading, Title I Math, Title I Reading, and English Language Learners. We also offer "What I Need" (WIN) time across all grades. "WIN" is a time set aside for teachers and reading/math specialists to deliver specific instruction in reading or math based on students' individual needs regardless of whether the student is below, on, or above grade level.
A dedicated and experienced staff encourage each child to develop their unique talents and challenge them to become lifelong learners. This environment promotes every student's feeling of self-worth and a willingness to love and care for others in the true spirit of God. In fact, 52% of our teachers attended a Catholic school themselves! In addition, 39% of our staff have master's degrees, and 58% of our homeroom teachers have an additional specialized endorsement in reading instruction.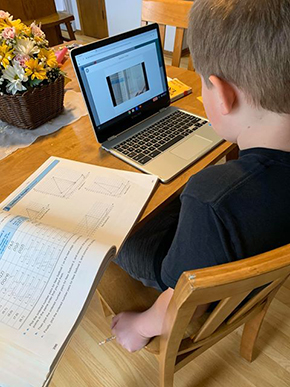 Our emphasis is the total student: academically, physically, spiritually, socially, and emotionally. The quality of education at our school is supported by the high test scores our students receive. Graduates of Holy Trinity Catholic go on to do well in high school, college and beyond. Special programs enrich the basic academic and religious core. For example, Spanish is a core class for all middle school students, allowing our graduates to often move directly to advanced, second level high school Spanish courses. Algebra is also offered to 8th grade students who qualify. STEM Lab is part of their regular related arts schedule, as well as a Guidance curriculum delivered by a full time Professional School Counselor. Activities such as Mock Trial, Speech and Debate, Choir, Band, Lego Club, and Chess club also offer extracurricular engagement.
Holy Trinity values the importance of cultivating 21st century skills and digital citizenship. Current classroom technology includes Promethean Interactive Whiteboards in every classroom for whole group instruction. Blended learning opportunities are also available as we have tablets in grades PK-1; chromebooks one to one in middle school, two to one in grades 4-5, and four to one in grades 2-3; plus desktop and chromebook technology in the STEM lab.
By providing a values-based education in a nurturing, faith-based environment we are able to prepare students for an ever changing world. We look forward to partnering with you in your child's learning!