Before & After Care – Kids Connection
PS3 – 8th grade
Monday-Friday 6:30 AM-8 AM and 3-5:45PM
Holy Trinity students enrolled in PS3-8th grade are able to participate in Kids Connection. Our program is here for the convenience of families who need childcare before and after school. 
Before School
Kids Connection opens at 6:30 AM each morning in the school gym. While a school breakfast is not provided, students are welcome to bring something light for breakfast to eat while at KC. Items from fast food restaurants and pop are not allowed. KC staff will dismiss children to go to class at 8 AM. Students are not allowed in the school unsupervised until 7:50 AM. If you arrive to school before that time, students will be sent to Kids Connection and charged a drop in fee of $28.
After School
Hours are 3-5:45 PM. Children are split into groups each afternoon. The groups are: Preschool/Kindergarten, 1-2nd grade, and 3rd grade and up. Children enter into the Social Room (cafeteria) after school and have a Kids Connection provided snack. We then break into our groups and rotate activities in the building. We use the gym, library, social room, the playground and 7th grade rooms. The groups have a game/activity cart that goes with them to each room. The older group of children has approximately 30 minutes of homework time each afternoon. The younger groups always have 2-3 staff and the older group of students typically has one staff with them.
In-service Days/School Breaks
Kids Connection is available on early out in-service days as well as full day in-service days. For a complete list of in-service days and school breaks, please refer to the school calendar. There are 2-3 days during the school year when KC is closed for professional development. These dates can also be found on the calendar, but always fall on the Friday before the Holiday Boutique and the Friday before the Gala Auction. Sign up for care on in-service days is requested in advance. You will have notice of these days prior to when sign up is expected. We love to go on field trips when we have full days off of school. We take a bus and typical trips include movies, bowling, roller skating, parks, swimming, and other fun places!
A variety of schedules are available to meet the needs of our families, including full-time (before after school, Monday-Friday) or part-time (2-4 days a week), mornings only, afternoons only or on drop-in basis. For more complete information, the Kids Connection handbook can be found in the back of the Student/Parent Handbook.
Staff
We will follow the NAEYC staff/child ratio of 1:8 (one staff per 8 students) for the 3-year-old program and 1:12 for the 4-year-old program. Any amount of children over the ratio will have 2 staff present in the room. A full time teacher certified in Early Childhood, as well as an associate, will lead the program. There will be a transition to afternoon staff each day at 3:20 PM.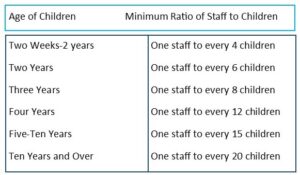 Toileting
Children must be fully toilet trained. As most children this age are newly toilet trained, we do expect accidents and therefore ask that an extra change of clothes is left at school for such times. The restroom the children will use is located next to the classroom. Children will be supervised when they leave the room to use the restroom.
In-service days
If an in-service day falls on your scheduled day for preschool/childcare, care will still be available, however, additional fees may apply. Advanced sign up is required for in-service days.
Communication
As staff, we are here to care for your child. In order to do this to the best of our ability, it is very important to have an open line of communication between staff and parents. Staff will communicate with parents face to face, via email, phone, bulletin boards and more!
CLICK HERE FOR KIDS CONNECTION FEES 22-23 (Including Summer)

Payments/Fees
Kids Connection billing is done through FACTS Online Billing System. Payments are due monthly.
Payments options include
• On-line FACTS account
• Monthly automatic withdrawal (ACH)
• Directly to Kids Connection Director
Failure to make on time payments will result in a $15 late fee per month and your child may not be allowed to attend Kids Connection until your balance is paid in full.
Summer Kids Connection
Spend your summer with your Holy Trinity friends at Kids Connection! Kids Connection is available for enrolled Holy Trinity Students entering class in the fall. (Students must be 3 on or before June 1 and registered for Preschool or Pre-Kindergarten at Holy Trinity) There will be a younger group of children (those entering PS3 to 1st grades) and an older group of children (those entering 2nd-6th grades). Summer hours are Monday-Friday, 7 AM-5:30 PM.
More details coming soon about our 2022 Summer Kids Connection program.
Jenith Burry, Kids Connection Director
515.255.3162 ext 127
jburry@htschool.org